[ Home ] [ Up ] [ CLAM_SHELL3 ]
The bottom is a piece of 1 1/2" x 3/4" x 1" Aluminum Channel cut as below. The longer side goes to the outside of the fuselage.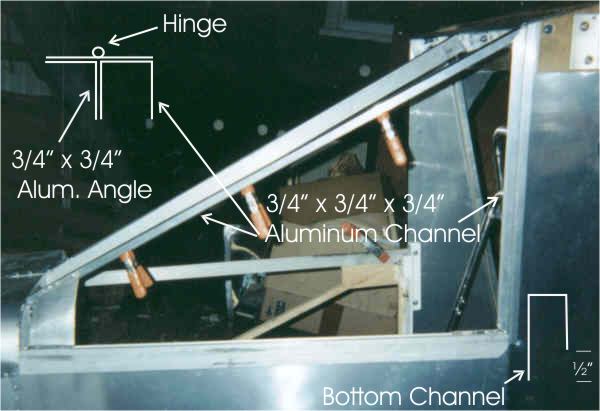 I took the 3/4" channel and cut a 'V' in the top corner and hand twisted the channel to fit.
Then I clamped it to the 3/4" x 3/4" side brace.
A 1/16" Alum, angle bracket connects the front side piece to the bottom. This is pop riveted with 3/16" rivets.
Then I took a 4" wide piece of 1/16" Alum. sheet and roughly hand bent the rear bracket close to shape.
Then I bent the flanges and riveted it in place.
[ Home ] [ Up ] [ CLAM_SHELL3 ]